The world's most trusted partner marketing ecosystem where channel partners thrive
---
10,000+ partners
50+ vendor streams

2,900,000+ followers
1,400,000+ clicks,
80,000+

MQLs
When partners leverage this benefit, they see results…
NCS Technologies
Deal size: $180,000
"Our social media presence has more than doubled since we started using PartnerOn. Additionally, our LinkedIn followers have increased by 34%. We are reaching more potential customers and having more conversations with them on social media than ever before. Thank you for helping us increase our reach and grow our business!"
-Mike Turicchi, Vice President, Strategic Relations and Marketing
Technical Specialties, Inc.
Deal size: $50,000
"PartnerOn has been instrumental in allowing me to push content to our subscribers in a fast and convenient fashion. It frees up my valuable time while increasing my reach to our prospects. Sharing content through this platform shows that we are a professional company that is on top of ever-changing IT trends. Our clients love the content, and we love how it's helped us grow sales."
-Teri McMullen, Business Operations Manager
Mindrover Technology
Deal size: $2.5 Million
"I love the auto-posting feature! We closed a deal worth $2.5 million thanks to the content from your site that I post every week. The customer found our content on one of my social media accounts. Thank you for making it easy to stay consistent and in front of my network."
-Kenneth Dawsoni, CEO & Founder
SolutionStack
Deal size: $35,000
"It is great having a marketing tool like this. PartnerOn makes it
easy to manage posts and marketing campaigns, and has been a huge time-saver for us. The time we save on marketing has allowed us to focus on new sales opportunities."
-Mark Avila, Business Development
Intelligent Technology Solutions
Deal size: $500,000
"Using this platform helps our small company appear much larger. We can now compete with larger companies because PartnerOn has enabled us to optimize our marketing strategy. This validates us as a company that can provide services to larger enterprise clients."
-Richard Minnigh, Vice President
MAPSYS, Inc
Deal size: $27,000
"After posting through PartnerOn, I received a reply from a customer. We were able to respond and assist with the project. This enabled us to connect with our audience and our customer said they will be a MapSys customer for many years to come!"
-Jim Howell, National Sales Account Manager
The Audience
The ContentMX partner ecosystems have over 10,000 users, 78% of which are distributing marketing from multiple vendors and have attributed sales from $50,000 to $2.5 Million.
Partners range from small firms to large enterprises with hundreds of sellers, including IT Service Providers, Cloud Service Providers, Managed Service Providers and more.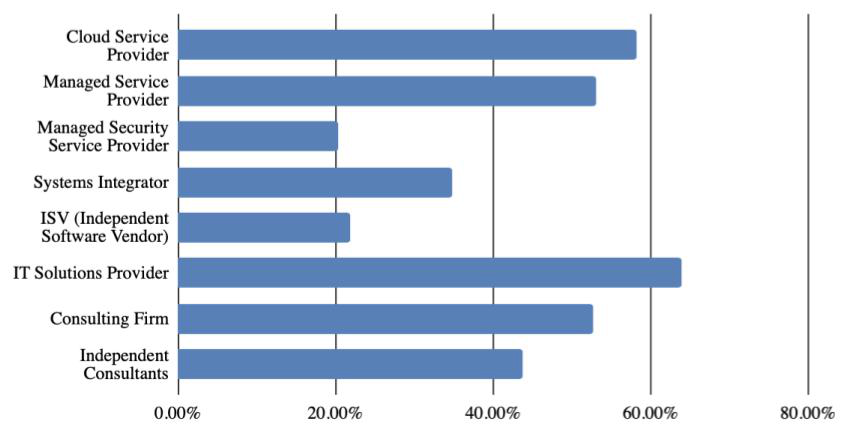 And these partners have demonstrated they want content from a diverse set of sources…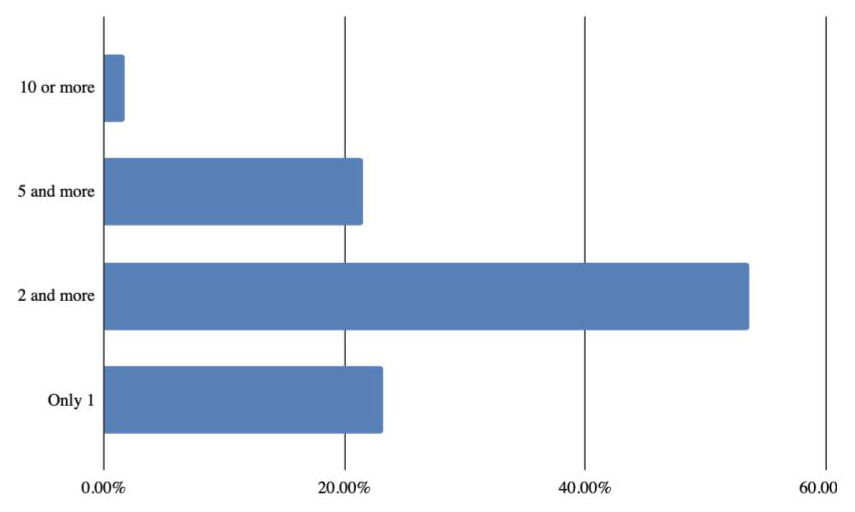 Contact us to learn more about our audience of active partner organizations and how to add your brand to one of these ecosystems, or an ecosystem of your own.
The Opportunity
Partners currently engage with 50+ vendor content streams covering a wide range of topics such as Security, Remote Work, AI, Big Data, Edge Computing, and more.
High value content is streamed every week to and through the partner ecosystem.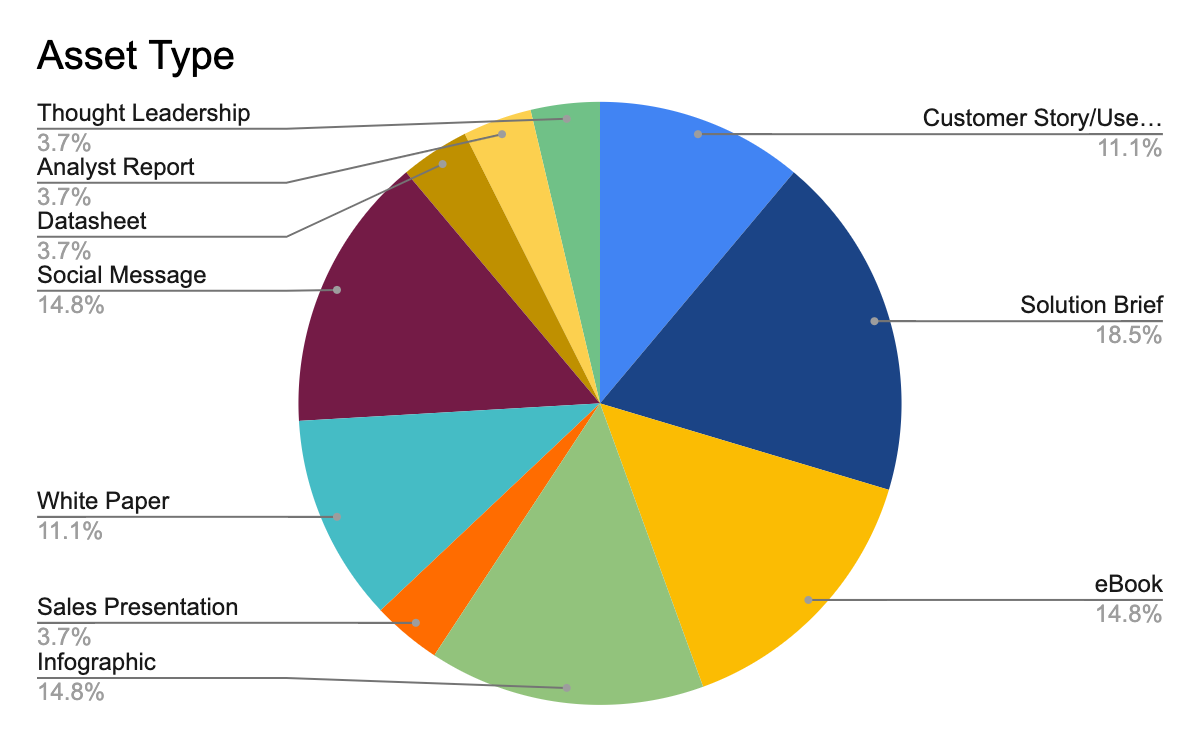 40%
We regularly see partner engagement rates of 40% or more.
Content streams are customized to fit your business needs, including:
Pro Tip weeks and tracking for partner training
Protected streams for authorized partners
News and announcement weeks and streams
Profiling and dynamic unlocking of content weeks
White Glove Concierge Services 
Take your partners to the next level with our personalized White Glove Concierge Services program. Click here to learn more.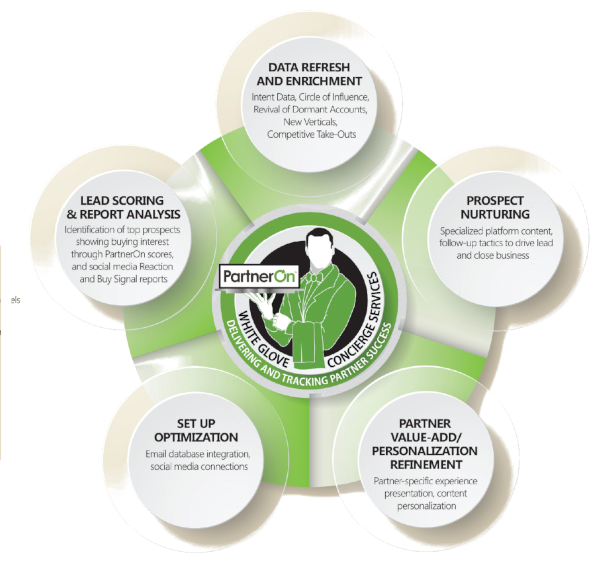 The Results
In addition to engaging content like infographics and ebooks, vendor streams contain lead generating content for building sales pipelines. This combination of content and services lets you…
Elicit reactions, comments and shares on social media with high quality content
Generate clicks and new leads with a strong call-to-action in email campaigns
Track purchase intent with special Buy Signal content
Book meetings with free assessments and reviews linked directly to appointment calendars
Participate in vendor webinars with partner-controlled webinar invitations and registration
Track and report on the progress of your sales deals with new lead management features
Gain attention and rewards with your Partner Score
Learn more about customers with quick polls
Match your business to top vendors with account profiling.
Detect buyer intent with Social MQLs
Social Marketing Qualified Leads (Social MQLs) are strong indicators of interest from customers and prospects. Detailed reports with actionable data points are sent every week.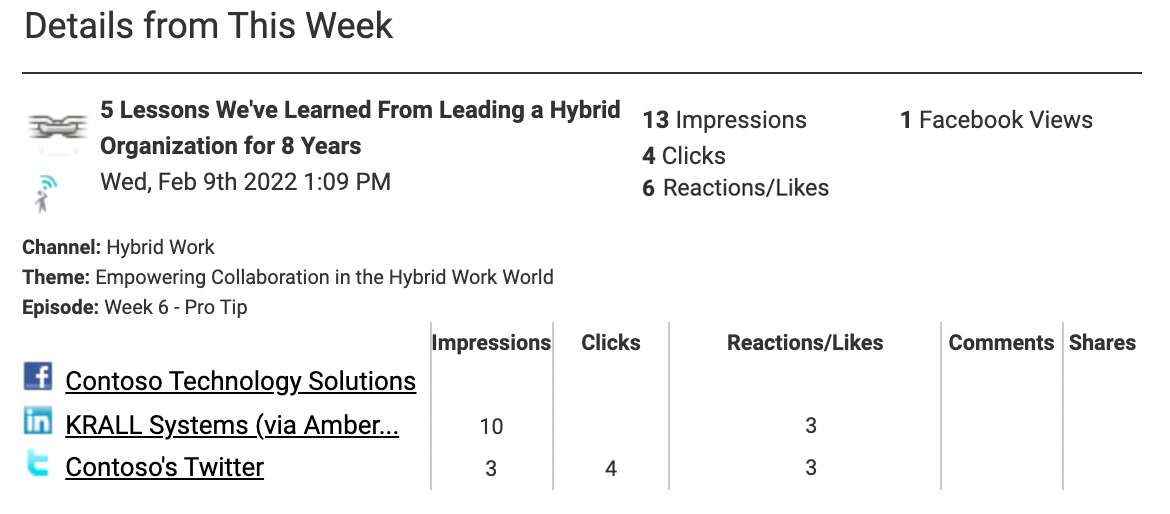 Gain visibility with powerful co-selling and co-marketing features
Built-in CRM functionality allows partners to track and manage their sales activity. Leads can originate from the streaming content or they can be distributed from the vendor to the partner and vice versa. An extensive set of workflows gives vendors more visibility into partner sales pipelines and the ability to collaborate on sales and marketing efforts.
---
Want to preview vendors and streaming content channels? Click here for a quick peek at our streaming content and sign up for your free account.
Preview Content
Empower your partners to build and optimize digital channel marketing strategy and execution, accelerate demand generation, and capture and close leads.
Just Because Content is Available Doesn't Mean it's Being Shared
---
If you're like most channel marketers, you're constantly trying to find new ways to keep your partners' attention and get them selling better. You may try to do both by creating marketing and training assets that you then post to your partner-facing websites and/or portals. You may then track "asset downloads" as a metric of success, without actually knowing if your partners are really using the content you provide in market – and if that content is generating new leads for them.
This is a traditional approach to partner-marketing that, after more than a decade, continues to rely on posting static assets to web portals and content libraries that partners waste hours navigating and then abandon. The "campaign in a box" did not solve this problem because, too often, partners do not have the time or resources to regularly search, customize, and publish new materials. They get stuck in the box, or lost in the portal, and your well-thought-out marketing assets and training tools go unused.
Push customizable, step-by-step marketing content to and through partners every week
At ContentMX, we provide a prescribed marketing program for partners using simple, customizable, step-by-step marketing plans that we help you to create. No need to produce special content. We can tap into the materials you already have, sort them into weekly campaigns and put them into context that partners can thereafter customize and distribute.
New Content Every Week Keeps Partners Engaged
---
Every week your partners will receive a message highlighting new videos, white papers, case studies, infographics, thought leadership articles, lead capture forms, training materials and more to publish to their end customers and prospects. This new content is provided in an elegant, prescribed and personalized manner allowing partners to customize it if they want, or to simply follow along and publish directly to their blog, email lists and social media. Each partner is also on their own timeline with their own unique login to the ContentMX platform.
---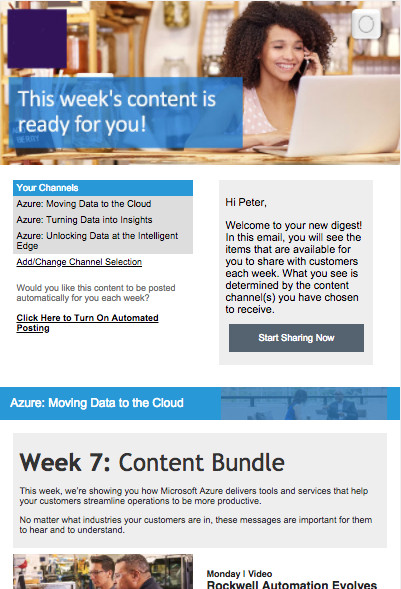 A Proactive Approach that Impacts Your Bottom Line
This new solution quickly impacts your channel, creating a "new behavior." Partners will now wait with anticipation for new content campaigns to arrive every week. They will go from casual observer to engaged marketer, learning and promoting your business each step of the way. Now even that 1 person or "no person" marketing department looks professional. And, you can track all of their activity and count the leads.  
---
An Editorial Team That Makes it All Happen
Our editorial team works with you to identify the content in your organization and organize it into channels, themes and weekly episodes. An editorial calendar is produced for your approval. We put it all into context and produce the materials that surround it such as background graphics, email banners and layouts, tweet and Facebook updates, lead collection forms, and more. All you need to do is point us to your content. If needed, we can also produce new content for you, including infographics, ebooks, white papers, and hero videos.
Comprehensive Onboarding, Training and Support
Our team is responsible for onboarding and training your partners. We work with you to deploy a series of marketing and outreach campaigns that will yield the highest level of adoption. The onboarding process includes:
Custom branded landing page to provide sign up form, account login and support resources

Outgoing email and telephone contact to invite partners to enroll

Weekly and on-demand webinars for getting started and ongoing best practice

One-on-one training and account setup sessions

Online training materials including guides and videos available on demand

Repeat contacts made to inactive partners by phone and email.
---
Advanced Features Provide a Complete Solution
This platform offers many advanced features that make it a state-of-the-art marketing solution. This includes:
Materials that automatically incorporate partner branding, including customized blogs, emails, and social posts, PDF and Powerpoint documents.

Gated campaigns that require contact information to be collected before access to content is granted (we call these "Build Your List promotions").

Incentives provided through goal setting and gamification related to the sharing, emailing, and downloading of materials

"Themes" transform your content into logical, story-driven campaigns over multiple weeks

Segment content for distinct business areas into "channels" and allow partners to select the channels that best fit their interests and target customers

Reporting for partners that tracks all activity on published content and provides lead scoring

Reporting for vendors that provides detailed analysis of partner engagement, content popularity, posting trends and audience reach

Single sign-on through popular providers like Microsoft, Google, and Facebook. Or, customized to your platform.